A few words from Gift School founder and CEO Karine Ravel. Karine is a mother of 4 children and former Human Resources Manager, Teacher and School Curriculum Director in schools in France and abroad.
As a school teacher with the French Board of Education for 10 years, three of which were spent in French schools abroad, I came to a point in my career – like all my colleagues – where I felt the limitations of applying the same methods to the whole class as well as the need to adapt my teaching to the specific needs of each pupil.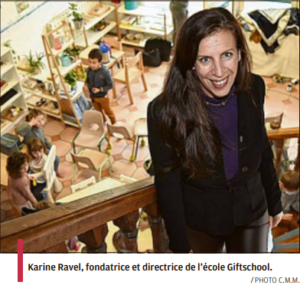 I researched alternatives which would allow children to learn at their own rhythm, so that I could guide them to reach their full potential without ever losing sight of their will to learn.
The Montessori method was my first encounter with alternative teaching methods. As soon as I began using it in class, I was immediately convinced.
To complete the Montessori method, I added techniques adopted from other methods and from educational research (brainbased learning, chronoeducation, project-based work, cooperation, the theory of multiple intelligences and others).
Furthermore, working with parents whose children were Intellectually Gifted Children, and seeing the great difficulties these children encountered in traditional school systems, I decided to organize specific programs for them and to work with teachers who were specially trained to deal with their learning needs.
As a mother of 4, I see the challenges that our children experience at school and I understand the urgent need for a school which adapts to the needs of each child.
It is this deeper understanding which lead me to develop the Gift School's holistic approach to teaching.