The Gift School offers holiday camps during the first week of every school holiday during the year: Toussaint, Winter, Spring and all of July.
These camps are bilingual sessions organized on a theme chosen by the school's team of teachers and developed in a stimulating and happy learning environment.
Registrations are currently open for Winter Camp, from February 7th to 11th, 2022.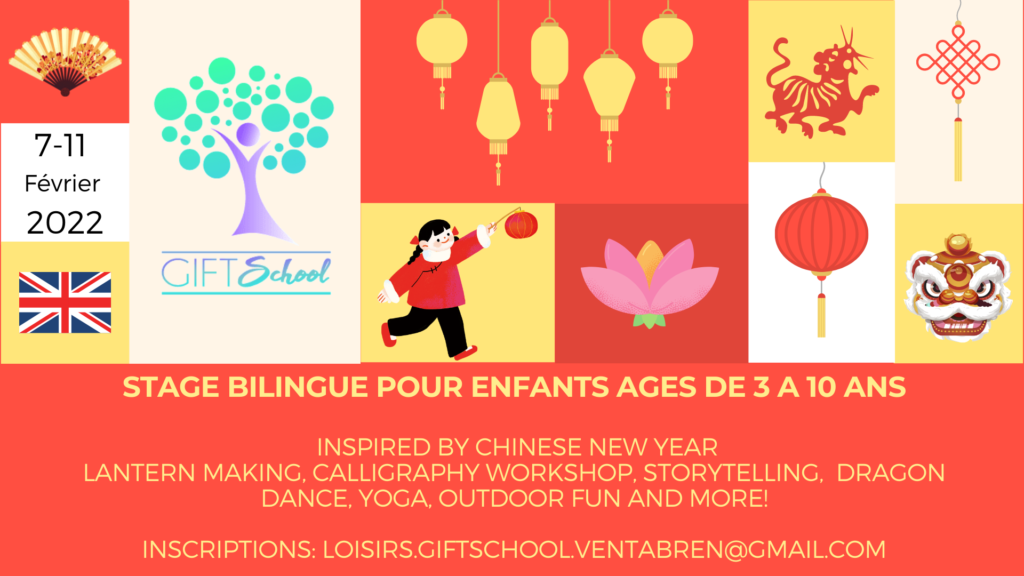 Let's Go to China!
During the Winter school holiday, children will embark on a journey to China. A Chinese calligraphy workshop, activities to learn about and honor ancestors, a cooking workshop, lantern making, yoga and relaxation and other activities to commemorate Chinese New Year, will be organized during the week.
2022 – Year of the Tiger
Over 5000 years old, the Chinese calendar is associated with the seasons. Each year is symbolized by an animal from the Chinese Zodiac, and 2022 is the year of the Tiger. Children will learn the legendary story of the Jade Emperor and the 12 Chinese Zodiac animals. The Chinese New Year is above all an occasion to prepare for warmer spring days ahead and to wish each other joy, health and wealth in the following year.
Each week, four Gift School teachers and assistants will lead the children's groups.
* Katia (Camp leader, English teacher, Russian nationality),
* Kerrin, English teacher, British nationality,
* Sara (assistant)
* Renaud (assistant)
* Emilie, (assistant on Wednesdays)
Lunch must be brought to school from home. Morning and afternoon snacks (organic, local and zero waste) are provided by the school.
Dates and Prices
February 7th to 11th, 2022
€220 per child per week (€160 for Gift School pupils) + €30 registration fee payable once each school year.