The Gift School offers holiday camps during the first week of every school holiday during the year: Toussaint, Winter, Spring and all of July.
These camps are bilingual sessions organized on a theme chosen by the school's team of teachers and developed in a stimulating and happy learning environment.
Registrations are currently open for Summer Camp, from July 8th to July 30th, 2021.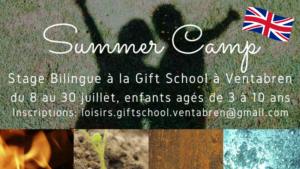 Eléments of Nature – Earth, Water, Air and Fire
« As humans, we are not meant to produce and consume all our lives, but to love, admire and take good care of life in all of its different forms. » – Pierre Rabhi
This summer, the Gift School will embark children on a joyful and bilingual encounter with nature, as they discover the four éléments of nature : Earth, Water, Air and Fire.
Each week, a different element will inspire the week's activities, both in French and in English. Children will explore the relationship that we as humans have with Mother Nature, and they will learn how to be aware of and respectful of the environment.
Where does the water in our home faucets come from ? How does solar energy work ? The power of wind, from a pinwheel to a wind turbine … and the Earth and its gifts, farming and protecting the soil, agricultural life and primary forests. These subjects and others will be sources for activities and learning.
Fun and eco-friendly activities to :
Develop environmental awareness
Stimulate creativity
Strengthen the desire to learn
Identify and nurture the emotional experience in nature, as a method for finding peace of mind and self-confidence
Outdoors activities will take place in the Gift School's recreational area, a big beautiful garden with its wooden play equipment.
Each week, three Gift School teachers, including one native English-speaker, will lead the children's groups. Lunch must be brought to school from home. Morning and afternoon snacks (organic, local and zero waste) are provided by the school.
Dates
First « mini-week », July 8th and 9th;
Second week from July 12-16 (NOT INCLUDING Wednesday July 14th which is a national holiday in France) ;
Third week from July 19-23 ;
Fourth week from July 16-30.